Spray foam roof insulation mortgage problems – what you need to know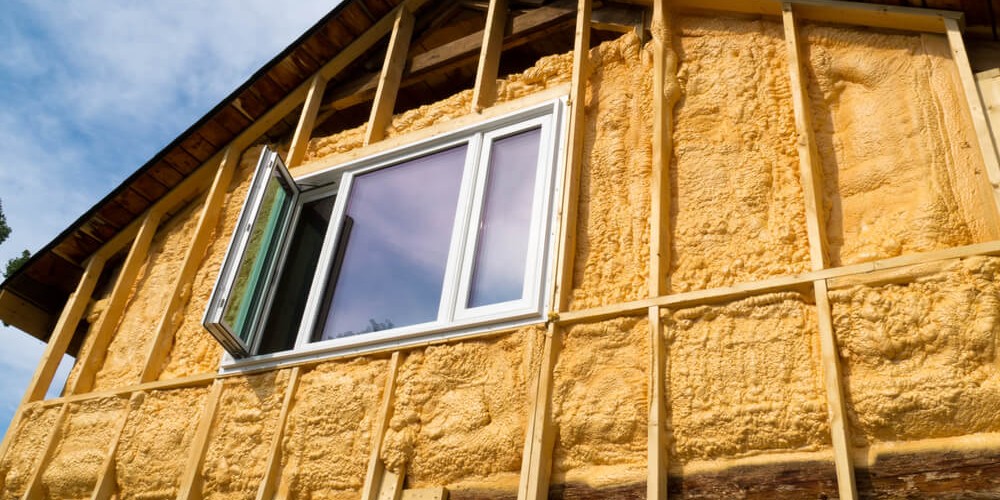 Spray foam insulation (SFI) is a popular and convenient way to insulate lofts and roof spaces. It's a tried and tested technology that has been around for more than 30 years. And yet, owners of properties with this type of insulation are experiencing problems obtaining a mortgage, and that includes an equity release later life mortgage. Let's take a closer look at why there could be a problem.
What exactly is spray foam insulation?
Lofts are traditionally insulated with materials such as fibreglass, wool or mineral fibre rolls, but spray polyurethane foam (SPF) is an alternative method that can be used in roof spaces, lofts, walls and floors. The foam is applied in liquid form through a power sprayer and, once in place, it expands and hardens. There are two types of spray foam insulation (SFI): Open Cell SFI that produces a soft, spongy and flexible material, and Closed Cell SFI that sets rigidly, meaning no air or moisture can get inside the foam.
The benefits of SFI for the home are widely publicised and include more efficient heating and a reduction in energy bills, reducing mould, allergens and pest infestation, providing sound insulation properties and reinforcing the structural integrity of the property. It's a long-lasting solution designed to protect your home against the elements.
Spray foam insulation is usually sold with the benefit of having greater insulating properties and the many benefits mentioned above, which is used to justify its higher installation costs. According to Energy Saving Trust estimates, a traditional loft insulation installation costs around £300 for a regular 3-bed semi, compared to over £1,000 with spray foam insulation. This works out at £20 to £50 per square metre, depending on thickness.
How might spray foam insulation impact your mortgage?
So far, so good – so why could mortgage lenders possibly have a problem with SFI? Well, sealing the roof space with hardened spray foam cuts off the air circulation to the roof and timbers. Over time, this can result in a build-up of condensation which can turn to wood rot in roof timbers. What's more, Closed Cell SFI sets rigidly, which can put additional stress onto the supporting roof timber and may even cause distortion of the roof itself. For a lender considering a loan on the property for 25 years or more, this is a major concern.
What's more, removing a SFI installation from the roof is a laborious and expensive task, since the material was designed to penetrate all the gaps and crevices behind timbers, making access and removal a thankless and, frankly, near-impossible job. And even in you do manage to get rid of all the foam, damage to the property may already have occurred and your lender may still not be keen to accept the risk.
Icynene is the only type of insulation foam to have achieved BBA (British Board of Agrement), ETA (European Technical Assessment) and IAB (Industry Advisory Board) construction industry certifications, as it absorbs the lowest amount of moisture and has the highest level of vapour resistivity. While this type of SFI may arguably not cause any damage, property surveyors and mortgage lenders have yet to be convinced.
Are there any lenders who will consider properties with SFI?
As a specialist mortgage and equity release broker, John Whyte has access to tools that give us valuable data on most providers' lending criteria. Closed Cell SFI appears to be the main sticking point but any type of spray foam insulation is likely to raise the alarm with potential lenders.
So far, we have come across only two equity release lenders who may consider properties with SFI. One lender will accept Open Cell Icynene insulation foam under the proviso that the installers provide a formal written guarantee against failure of the foam and that the lender's appointed valuer approves the loan. The other lender also requires a long-term guarantee and their valuer's approval.
Other lenders may be amenable but all require a referral to them before proceeding, and their valuation survey will stipulate strict specifications of the type and material used for lending criteria to be satisfied. Clearly, for homeowners applying for equity release or a lifetime mortgage, this can be a frustrating situation.
What are your options?
If you are looking to obtain a mortgage on a property that has SFI installed, or are hoping to release some of the equity tied up in your home, it is important to work with an independent financial expert in the field.
At John Whyte Equity Release, we have many years' experience in providing professional, impartial equity release advice for homeowners in Southern England and across the UK. We will investigate your options to provide the finance you need including mortgage lenders who may accept Open Cell foam for mortgage purposes and specialist lenders. When you make an application, we will be there to guide you through the process from start to finish.
You can help by collecting as much information as much as possible about your existing SFI installation including documentation to answer the following questions:  When was it installed and by whom? Which type of spray foam was used? Are there any guarantees available? What is the age of the property and the age of the roof?
If you wish to find out more about our equity release services and how to deal with a property with spray foam insulation, please get in touch for a free consultation.